Connecticut Meadery Perfecting Ginger Mead infused Chocolate Truffle
Like most young woman, Valentine's Day is really something special when you have found that perfect person in life. I think Valentine's Day holds much more meaning when you give gifts made from the heart and crafted of the hands. Although, they may not always perfectly executed or in end results, it is still wondrous gift to receive and better yet, to share with the ones you love.
We have been provided this recipe from Nordic Moon Meadery who is working with local confectioneries and chocolate companies in Connecticut to perfect a ginger mead infused chocolate truffle. They hope to bring This delicious mead bite to the New England market place for the summer of 2018. If you can't wait for the truffle to be released, here is one recipe that you can make for your sweet heart this Special Day. –Enjoy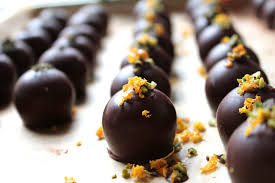 Ginger mead infused Truffles Recipe
Ingredient List:
1 12 ounce package semisweet or dark chocolate pieces or one 11-1/2-ounce package milk chocolate pieces
1/3 cup whipping cream
4 table spoons of (Ginger Mead)
2 1/2-3 tablespoons finely grated mead infused ginger
(direction for making mead infused ginger if you can not fine any locally)
Unsweetened cocoa powder
Finely chopped walnuts if desired, toasted.
Powdered sugar
Directions:
Line a baking sheet with parchment or waxed paper; set aside. In a heavy medium saucepan, combine chocolate pieces and whipping cream. Cook and stir constantly over low heat until chocolate melts. Remove saucepan from heat; cool slightly. If desired, stir mead. Beat truffle mixture with an electric mixer on low speed until smooth. Stir in mead infused ginger. Chill about 1 hour or until firm.
Shape chilled chocolate mixture into 3/4- to 1-inch balls. You may roll balls in cocoa powder or sprinkle on some dried mead ginger. Makes about 24 truffles.
Place truffles in an airtight container; cover. Store in the refrigerator for up to 2 weeks. Let stand at room temperature about 30 minutes before serving.
Directions for Making Mead infused Ginger if you do not have any on hand.
1  375ml bottle of plain Orange blossom mead.
Grate 6 tablespoon fresh ginger.
Place 100ml mead and ginger in air tight container.
place container in refrigerator for 2 weeks before use.
Once ready to use place 4tbls to slightly dry on paper a towel,
lightly toast the other 2Tbls to sprinkle on top.