Mead Tasting Event: 5 easy steps to hosting a fun and classy mead tasting.
How to Host a Mead Tasting Event
Now that you've discovered mead, it's natural to want to share it with your friends and family. If you've tasted several meads, you may be tempted to share them all with your friends and family. I've found it's best to limit one event's tastings to about four different meads. More than that becomes sensory overload; impressions of the individual meads become blurred.
Think of it as choreographing a performance. The rules of thumb are to start with lower alcohol meads and work higher; to start with drier meads and work sweeter; to start with simpler flavors and work to more complex; and to start with more delicate and work toward more intense.
It can be fun to keep everything within one theme. For example, I can imagine a Raspberry Mead Tasting Event: Start with a raspberry session mead, then an off-dry chilled raspberry melomel, and finally a raspberry dessert mead. Or, serve meads that are all made in Michigan. Or, serve all wildflower traditional meads, but from different places and seasons and of different styles.
It can be equally fun to offer an unaffiliated parade of meads. Perhaps start with a session mead or sparkling mead, then on to an off-dry melomel followed by an oaked semisweet traditional mead, and end, finally, with a sweet mead or metheglin.
An excerpt from Chrissie Manion Zaerpoor's book, "The Art of Mead Tasting and Food Pairing," this appears on pages 46-47
---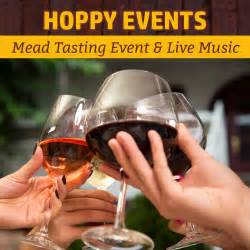 5 Easy Steps to hosting a fun and classy mead tasting
Choose a theme. One of the most important parts of hosting a mead tasting is deciding what kind of meads you want to try. There's no right answer that will please all your guests but if you taste enough meads you can please most of your guests. When picking a theme for your tasting pick meads that are simular in styles and flavor components i.e. strawberry, blueberry or ginger. Or if the mead has no flavor adjuncts you might want to focus on a similar single source varietal honey mead like Orange blossom, Buckwheat, Eucalyptus or Tupelo. Meads made with Wild flower honey maybe difficult in a tastings if you are seeking out similarities, as many different flowers sources maybe visited by the bees to make the honey. Although if you seek out Wildflower honey meads for a tasting stick to a single region with similar terroir or crop phenotype.
The Food situation. One should not be eating during the mead tasting, other than a little bread or crackers that will be needed to cleanse your palate. So, you should decide if you want to give your guests a light meal before the tasting or serve dinner after the tasting. Great mead and food pairings can be found in

The Art of Mead Tasting and Food Pairings

written by Chrissie Manion Zaerpoor
Get the right mead glasses.  It's fun to be able to provide your guests with a new mead specific tasting glass with each new mead tasted. Realistically, just one glass per guest will do. However, if you are going to make this mead tasting an ongoing monthly event you may want to check out Riedel's Rheingau glass or Riedel's Montrachel glass. If this will be a weekly viking ritual a few brass viking horn tasting glasses are always recommended for the guests.
Additional supplies: Paper and pencils, cork screw or wine key, ice and ice bucket, white napkins or white paper to assist in viewing color profile of mead. It's always nice to have chilled water available for guest. Most importantly a "dump bucket or spittoon should be available for that not so appealing mead. Depending on how serious your mead tastings become you might want to obtain a wine or mead tasting or sensory wheel. This will always be useful when writing down your thoughts of tasting, aroma, flavor, mouth feel clarity.
Step 5  It's time to plan your next event and do it again.