Mushroom Tart, Paired with an African Dry Mead
Pairing Suggestion: Iqhilika Msombomvu African Dry Mead is a traditional dry mead, barrel aged in red wine barrels. This mead from Makana Meadery in South Africa is widely distributed in the U.S. and has a silky mouthfeel and a unique earthy and slightly sour flavor profile that marries especially well with mushroom dishes. Or pair this tart with any earthy, full-bodied, dry to semisweet traditional mead.
RECIPE: Mushroom Tart, appear on page 66 of Chrissie Manion Zaerpoor's book, "The Art of Mead Tasting and Food Pairing"
Mushroom tarts (or mushroom pizzas) can be a quick and simple lunch or an elegant appetizer. For a more casual and low-cost tart, use a pre-packaged flatbread or pizza crust and everyday white button mushrooms. For a more posh appetizer, lunch entrée, or dinner side dish, use a mix of fresh or dried wild mushrooms. Quick, easy and versatile.
This recipe is: Vegetarian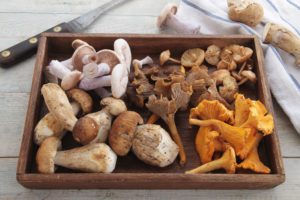 Equipment Non-stick fry pan; cookie sheet
Time 30 min
Hands-on 15 min
Difficulty ●○○○
Yields 24 tarts
Ingredients:
2 Tbsp butter
1/2 onion, finely diced
1/2 lb. fresh mushrooms or 2 oz. dried. If using dried, rehydrate in warm water for 30 minutes, then drain and squeeze out excess water.
1/4 cup mead or white wine
Cheese, cut to half-inch cubes, one cube for each tart shell. Recommended: goat cheese, blue cheese, or Gruyère.
1 egg, white and yolk separated.
1/4 cup cream
Salt and pepper
1 tsp dried thyme
1 Tbsp truffle oil (optional)
2 boxes frozen tart shells (typically 12 in a box), or 2 boxes puff pastry shells. Thaw per package instructions.
A few fresh chives, chive blossoms, or thyme sprigs for garnish
NOTE: "Duxelles" is the French word for diced, sautéed mushrooms.
Instructions:
To make the Duxelles:
1.    Pre-heat the oven to 350 °F.
2.    Dice the mushrooms finely.
3.    In a nonstick frying pan, melt the butter.
4.    Add the onions and sautée until soft, about three minutes.
5.    Add the mushrooms and continue to sautée over medium heat until the mushrooms release and then re-absorb their liquids, about five more minutes.
6.    Add the mead or wine and cook until all liquid is evaporated, just a minute or two. Turn off the heat.
To make the tarts:
1.    Arrange the tart or pastry shells on a baking sheet.
2.    In a small bowl, whisk the egg white until frothy. Brush the pastry shells with the beaten egg.
3.    Place one piece of cheese and a spoonful of mushrooms in each shell.
4.    In the same small bowl (adding the leftover egg white is okay), whisk the egg yolk and then the cream, salt, pepper, dried thyme, and truffle oil.
5.    Spoon the liquid into each shell; do not overfill.
6.    Bake until custard is set and shell is golden brown, 10-12 minutes.
7.    Garnish with herbs if desired.
How to Serve: Serve immediately, or make these early in the day and serve at room temperature.