Mead with Spicy Foods, Pairing
By Chrissie Manion Zaerpoor
Pairing Meads with Spicy Foods
When you pair meads with spicy foods, you can really impress your friends and shatter their preconceptions about mead. Sweet, semisweet, off-dry, fruity, and low-alcohol meads cut the heat in spicy foods for pairings that can be truly memorable. When beginning to pair mead with spicy foods, you may want to start simply with a traditional (honey-only) mead that you particularly like. Then, as your confidence in pairings increases, you can broaden your spicy-food pairings to melomels and other categories as well.
Turn up the heat as hot as you like in your spicy food! As a general rule, the hotter the food, the sweeter and fruitier your mead pairing can (and should!) be. But first a few warnings, because there are a few combinations you should avoid.
Do's and Don'ts's for Pairing Meads With Spicy Foods
Don't:
· Spicy foods make meads with hops or tannins taste bitter
· Oaked meads tend to clash with hot, spicy foods unless the food is grilled or smoked
· Very dry meads tend to accentuate the heat, usually in a bad way, while sweetness cools the burn in a good way
· Spicy foods make high-alcohol meads taste hot; look for lower alcohol content when pairing with spicy food
· Very hot spices make the palate less sensitive to subtle flavors and aromas. When paired with spicy foods, delicate meads seem pallid and uninteresting by comparison
· Metheglins made with hot spices such as pepper and ginger generally complement spicy ethnic foods less well than you'd think. (But as with every rule, there are exceptions!)
Do:
· Meads with residual sugars cool the heat in spicy-hot food
· Lush fruity meads, whether melomels or just traditional meads that register as having fruity aromas, balance the heat of spicy foods
· Sparkling meads, whether session meads or methode champensoise, cleanse the palate of pepper oils, refreshing your mouth for the next fiery bite
· Low-alcohol session meads balance the heat, are refreshing, and typically have a little residual sugar, all of which play well with spicy foods
· Chilled meads pair better with scorching-hot foods than do room temperature meads.
The list of characteristics to avoid when pairing mead with spicy food is actually quite short: hopped, oaked, spiced, very dry, or with very high alcohol levels. Note at this point that most beers are hopped, many wines are oaked or highly tannic, and many wines and ciders are puckery-dry. In contrast, even dry meads tend to be lush and almost never bitter. In other words, dinner beverage alternatives such as beer, wine, cider, and mixed drinks categorically pair less well with spicy food than mead. That's not to say, of course, that sublime pairings can't happen with beer or wine plus spicy food. Of course they can. The point is that you're much more likely to nail the pairing the first time with a good mead.
Designing Your Pairing for Spicy Foods
Take Your Cues from the Food's Ethnicity
For truly wonderful pairings with spicy ethnic food, let the additional ingredients in the mead come from the same cuisine as the food. For example, Mexican restaurants often offer an iced agua fresca (iced tea) known as "Jamaica" or "hibisco" which is made from a tea of bright-red dried hibiscus flowers, usually with some sugar and lime juice added. Nectar Creek Honeywine in Corvallis, Oregon, makes "Festoon," a lightly-sweet session mead flavored with hibiscus. This mead scores four different flavor "hits" to make it pair wonderfully with spicy Mexican food: ethnically-authentic hibiscus, low alcohol, some residual sweetness, and carbonation.
For another example, Indian restaurants almost always offer a "mango lassi" on the menu. This is a non-alcoholic drink made with mango juice and yogurt. Innumerable meaderies make mango meads. Because a mango-flavored drink is already a standard part of the cuisine, you can be sure that a mango melomel will be a terrific pairing with Indian food every time. Moonlight Meadery, Londonderry, New Hampshire; and Superstition Meadery, Prescott, Arizona; make particularly good ones.
Plum wine is a standard in Chinese, Japanese, and Thai restaurants. A semisweet to sweet plum melomel will pair well with spicy Asian food almost every time.
Most Middle Eastern cuisines offer traditions of teas or soft drinks perfumed with rose water, jasmine water, orange flower water, or mint. Meads with these flavors always pair well with Middle Eastern food. Apricot melomels can be wonderful with some Middle Eastern foods, especially Turkish, but because they tend to be sour, may not work for everything. Try them out with various dishes to see what works for you. Earthy and semisweet red pyments are also lovely with Middle Eastern foods, especially if you're lucky enough to find one made with Shiraz/Syrah grapes. (But remember: don't be disappointed if the label doesn't specify what kind of grapes were used in a pyment. In the U.S., our federal Tax and Trade Bureau (TTB) actually forbids the front labels of meads to identify the variety of grapes used and their source, in the interest of not misleading the consumer. Apparently the TTB thinks there's some risk that you may not know that a mead or a pyment contains not only that grape wine but also a substantial starting dose of honey.)
Tej, or Ethiopian traditional mead, is always good with all Ethiopian foods, and with most African, Caribbean, and Cajun foods as well. In fact, almost any Tej is a good go-to choice for pairing with virtually any scorching-hot cuisine including Szechuan Chinese. (In the unlikely event that you have trouble locating Tej, a semisweet traditional mead and a good Tej are interchangeable in almost all applications.)
Brad Dahlhofer, owner of B. Nektar Meadery in Michigan, says, "I really like a traditional buckwheat-honey mead with barbequed meat. A tupelo-honey mead goes real well with Indian or Thai food." Try B. Nektar's Wildberry Pyment with spicy, curried anything.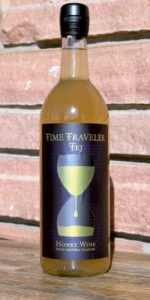 ---
Spicy foods are often best complemented with either sweet or carbonated drinks. Often mead is just the ticket. Chrissie Manion Zaerpoor devotes the entire chapter nine of her book, "The Art of Mead Tasting and Food Pairing," to pairing meads with spicy foods.