Arugula Salad with Cherries: Paired with Cherry Mead
RECIPE: Arugula Salad with Cherries, Black Pepper and Goat cheese
This recipe is: Gluten Free, Vegetarian
Time 15 min
Hands-on 15 min
Difficulty ●●○○
Yields Serves 6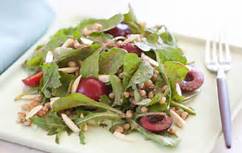 Ingredients:
¼ cup virgin olive oil
¼ cup balsamic vinegar
1 Tbsp honey
Salt and freshly ground black pepper to taste
1 bag or bunch of arugula
1 bag or bunch of baby spinach or butter lettuce
½ red onion, thinly sliced
1 pint (2 cups) fresh sour cherries, pitted and halved, or ½ cup dried cherries or dried cranberries
½ cup goat cheese crumbles
½ cup nuts or seeds such as pumpkin seeds, pistachios, or walnuts
Instructions:
To make the dressing:
1.   In a small bowl, whisk together the olive oil, vinegar, honey, and salt and pepper.
To make the salad:
1.   Wash, pick over, and drain the arugula and spinach. Tear any large leaves into smaller pieces. Place all in a large bowl.
2.   Add the sliced onion, cherries, and nuts or seeds, and toss lightly.
3.   Pour the salad dressing over the salad, and toss well to coat.
4.   Transfer the salad to serving bowl or individual salad plates.
5.   Top with the goat cheese crumbles and a fresh grinding of black pepper.
How to Serve: Serve immediately as lunch, or as a first course for dinner.  This salad is especially nice preceding a second course of beefsteak, lamb chop, or venison.
Variation: Replace the dried cherries with a thin-sliced Asian pear or Bartlett pear, and make the dressing with apple cider vinegar or mead vinegar instead of balsamic. The goat cheese crumbles may be replaced with blue cheese or feta crumbles. Pair with pear melomel, such as the lovely and not-to-sweet one from Austrian meadery Die Hochland Imker (available everywhere).
Pairing Suggestion: Cherry Melomel. Many meaderies offer cherry melomels, from under 7% ABV (Havoc Meadery, Colchester, Vermont) up to wine strength, and from bone dry up to very sweet.  If your melomel tastes too sweet in this pairing, you can add more black pepper and cheese to the salad.
From "The Art of Mead Tasting & Food Pairing by Chrissie Manion Zaerpoor"