Charter Oak Mead Cup: 2017 Taster's Choice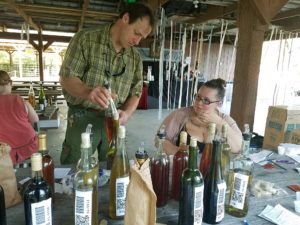 It has been almost a week since the Charter Oak Mead Cup at the Connecticut Renaissance Faire has concluded.
The Chart Oak Mead Cup competition event is unique in the ways of mead judging competition. As the competitors allow their mead entries to be evaluated by two judging panels . One of the panels is staffed by professional BJCP mead judges or wine sensory profession
als. Siting along side the second judging panel made up of the mead loving public who are willing to take the time and sample each mead and evaluate them based on the consumers preference in overall likability. The following are the statistics of the Taster's Choice based on entries of the Charter Oak Mead Cup (COMC).
To keep up to date on future MEADmag.com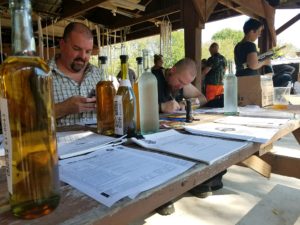 sponsored competition follow us on Facebook
Number of samples tasted: 152
| Entry # | Bouquet | Appearance | Flavor | Overall |
| --- | --- | --- | --- | --- |
| 610043 | 5 | 3 | 9 | 5 |
| 610043 | 4 | 3 | 9 | 2.5 |
| 610043 | 3 | 2 | 7 | 3 |
| 610043 | 5 | 3 | 10 | 5 |
| 610043 | 4 | 3 | 10 | 5 |
| 610043 | 3 | 1 | 7 | 2 |
| 610043 | 4 | 3 | 9 | 4 |
| 610043 | 5 | 3 | 9 | 5 |
| 610043 | 4 | 3 | 9 | 5 |
| 610043 | 3 | 2 | 8 | 4 |
| 610043 | 4 | 3 | 7 | 3.5 |
| 610043 | 4 | 2 | 9 | 4 |
| 610043 | 5 | 3 | 9 | 5 |
| 610043 | 3 | 2 | 6 | 3 |
| | 4 | 2.571428571 | 8.428571429 | 4 |
| 610067 | 3 | 4 | 6 | 3 |
| 610067 | 3 | 3 | 6 | 3 |
| 610067 | 3 | 2 | 7 | 4 |
| 610067 | 5 | 2 | 7 | 4 |
| 610067 | 5 | 3 | 5 | 3 |
| 610067 | 4 | 3 | 9 | 5 |
| 610067 | 4 | 2 | 8 | 4 |
| 610067 | 3 | 3 | 7 | 4 |
| 610067 | 5 | 3 | 9.5 | 5 |
| 610067 | 4 | 3 | 8 | 5 |
| 610067 | 4 | 3 | 8.5 | 4 |
| 610067 | 3.5 | 2 | 6 | 3 |
| 610067 | 5 | 3 | 7 | 4 |
| 610067 | 4 | 3 | 8 | 4 |
| | 3.964285714 | 2.785714286 | 7.285714286 | 3.928571429 |
| 610071 | 3 | 3 | 5 | 3 |
| 610071 | 3 | 2 | 3 | 1 |
| 610071 | 2 | 2 | 5 | 2 |
| 610071 | 3 | 2 | 3 | 2 |
| | 2.75 | 2.25 | 4 | 2 |
| 610080 | 3 | 1 | 3 | 2 |
| 610080 | 3 | 1 | 7 | 4 |
| 610080 | 4 | 2 | 4 | 3 |
| 610080 | 3 | 2 | 6 | 3 |
| 610080 | 3 | 3 | 5 | 2 |
| 610080 | 4 | 2 | 8 | 3 |
| 610080 | 3 | 2 | 8 | 3 |
| 610080 | 2 | 1 | 4 | 2 |
| 610080 | 3.5 | 2.5 | 7 | 4 |
| 610080 | 3 | 2 | 7 | 3 |
| 610080 | 4 | 3 | 7 | 4 |
| 610080 | 2 | 3 | 7 | 4 |
| | 3.125 | 2.041666667 | 6.083333333 | 3.083333333 |
| 610121 | 2.5 | 3 | 6 | 3.5 |
| 610121 | 3 | 3 | 5 | 3 |
| 610121 | 4 | 2 | 8 | 3 |
| 610121 | 4 | 2 | 7 | 3 |
| 610121 | 4 | 3 | 7 | 4 |
| 610121 | 3 | 3 | 10 | 5 |
| 610121 | 4 | 3 | 10 | 5 |
| 610121 | 3 | 3 | 8 | 4 |
| 610121 | 4.5 | 3 | 8 | 4 |
| 610121 | 4 | 3 | 9 | 5 |
| 610121 | 3.5 | 1 | 6.5 | 3 |
| 610121 | 3 | 2 | 6 | 3 |
| 610121 | 2 | 2 | 7 | 3 |
| 610121 | 3 | 3 | 5 | 2.5 |
| 610121 | 4 | 3 | 7 | 3 |
| 610121 | 2 | 1 | 4 | 2 |
| | 3.34375 | 2.5 | 7.09375 | 3.5 |
| 610165 | 3 | 3 | 4 | 2 |
| 610165 | 2 | 2 | 3 | 2 |
| 610165 | 3 | 2 | 3 | 2 |
| 610165 | 3 | 3 | 6 | 3 |
| | 2.75 | 2.5 | 4 | 2.25 |
| 610182 | 2 | 4 | 2 | 2.5 |
| 610182 | 2 | 3 | 4 | 3 |
| 610182 | 3 | 1 | 5 | 2 |
| 610182 | 2 | 3 | 2 | 1 |
| 610182 | 5 | 2 | 5 | 3 |
| 610182 | 2 | 1 | 3 | 1 |
| 610182 | 3 | 3 | 5 | 2 |
| 610182 | 5 | 3 | 6 | 3 |
| 610182 | 3 | 2 | 6 | 3 |
| | 3 | 2.444444444 | 4.222222222 | 2.277777778 |
| 610234 | 3 | 2 | 6 | 3 |
| 610234 | 3 | 2 | 5 | 3 |
| 610234 | 3 | 3 | 5 | 3 |
| 610234 | 3 | 3 | 7 | 4 |
| 610234 | 3 | 2 | 5 | 3 |
| | 3 | 2.4 | 5.6 | 3.2 |
| 610246 | 5 | 3 | 10 | 5 |
| 610246 | 4 | 3 | 8 | 4 |
| | 4.5 | 3 | 9 | 4.5 |
| 610284 | 4 | 3 | 8 | 4 |
| 610284 | 2 | 2 | 6 | 3 |
| 610284 | 4 | 3 | 9 | 5 |
| 610284 | 3 | 2 | 6 | 5 |
| | 3.25 | 2.5 | 7.25 | 4.25 |
| 610329 | 2.5 | 3 | 9 | 4.5 |
| 610329 | 2.5 | 3 | 9 | 4.5 |
| 610329 | 5 | 3 | 9 | 5 |
| 610329 | 4 | 3 | 7 | 4 |
| 610329 | 4 | 2 | 10 | 5 |
| 610329 | 5 | 3 | 10 | 5 |
| 610329 | 2 | 2 | 8 | 4 |
| 610329 | 4 | 3 | 9 | 5 |
| 610329 | 5 | 3 | 8 | 5 |
| | 3.777777778 | 2.777777778 | 8.777777778 | 4.666666667 |
| 610344 | 3 | 3 | 6 | 3 |
| 610344 | 2.5 | 3 | 8 | 5 |
| 610344 | 4 | 3 | 8 | 2.5 |
| 610344 | 4 | 3 | 9 | 5 |
| 610344 | 5 | 3 | 7 | 4 |
| 610344 | 5 | 3 | 10 | 5 |
| 610344 | 4 | 3 | 9 | 4 |
| 610344 | 3 | 3 | 7 | 4 |
| 610344 | 4 | 3 | 9 | 4.5 |
| 610344 | 2 | 3 | 5 | 2 |
| 610344 | 4 | 2 | 3 | 1 |
| 610344 | 4 | 2 | 7 | 4 |
| | 3.708333333 | 2.833333333 | 7.333333333 | 3.666666667 |
| 610366 | 2.5 | 3 | 9 | 5 |
| 610366 | 5 | 3 | 10 | 5 |
| 610366 | 5 | 3 | 8 | 5 |
| 610366 | 4 | 3 | 8 | 5 |
| 610366 | 5 | 3 | 10 | 5 |
| 610366 | 2 | 3 | 9 | 4 |
| 610366 | 4 | 3 | 10 | 5 |
| 610366 | 5 | 3 | 9 | 5 |
| 610366 | 5 | 3 | 10 | 5 |
| 610366 | 4 | 3 | 9 | 5 |
| 610366 | 3 | 3 | 9 | 4 |
| 610366 | 4 | 3 | 8 | 4 |
| 610366 | 4 | 2 | 8 | 3 |
| 610366 | 5 | 2 | 8 | 4 |
| 610366 | 4 | 2 | 8 | 4 |
| | 4.1 | 2.8 | 8.866666667 | 4.533333333 |
| 610404 | 2 | 1 | 4 | 2 |
| 610404 | 4 | 2 | 8 | 4 |
| 610404 | 3 | 3 | 8 | 4 |
| 610404 | 4 | 2 | 7 | 4 |
| 610404 | 5 | 3 | 6 | 3 |
| 610404 | 4 | 2 | 7 | 4 |
| 610404 | 5 | 3 | 6 | 4 |
| | 3.857142857 | 2.285714286 | 6.571428571 | 3.571428571 |
| 610412 | 4 | 2 | 9 | 5 |
| 610412 | 3 | 2 | 6 | 2 |
| 610412 | 3 | 2 | 7 | 3.5 |
| 610412 | 3 | 2 | 7 | 3 |
| 610412 | 3 | 3 | 8 | 5 |
| | 3.2 | 2.2 | 7.4 | 3.7 |
| 610447 | 4 | 2 | 7 | 4 |
| 610447 | 5 | 3 | 10 | 5 |
| 610447 | 3.5 | 2 | 8 | 4.5 |
| 610447 | 4 | 2 | 7 | 4 |
| 610447 | 5 | 3 | 10 | 5 |
| 610447 | 5 | 3 | 9 | 5 |
| 610447 | 4 | 2 | 8 | 4 |
| | 4.357142857 | 2.428571429 | 8.428571429 | 4.5 |
| 610484 | 2 | 1 | 5 | 2 |
| 610484 | 3 | 2 | 8 | 4 |
| 610484 | 3 | 2 | 5 | 2 |
| | 2.666666667 | 1.666666667 | 6 | 2.666666667 |
| 610510 | 2 | 3 | 6 | 3 |
| 610510 | 1 | 2 | 6 | 2 |
| 610510 | 2 | 2 | 5 | 3 |
| 610510 | 2 | 1 | 2 | 2 |
| 610510 | 4 | 2 | 3 | 2 |
| 610510 | 4 | 3 | 4 | 2 |
| 610510 | 2 | 1 | 4 | 3 |
| | 2.428571429 | 2 | 4.285714286 | 2.428571429 |
| 610539 | 3 | 3 | 7 | 4 |
| 610539 | 5 | 3 | 7 | 4 |
| 610539 | 5 | 2 | 7 | 4 |
| 610539 | 4 | 2 | 7 | 4 |
| 610539 | 2 | 3 | 10 | 3 |
| 610539 | 4 | 3 | 9 | 5 |
| 610539 | 3 | 3 | 6 | 2 |
| 610539 | 3 | 3 | 8 | 4 |
| 610539 | 3 | 2 | 7 | 3 |
| 610539 | 4 | 2 | 8 | 4 |
| 610539 | 2.5 | 2 | 7 | 3.5 |
| | 3.5 | 2.545454545 | 7.545454545 | 3.681818182 |
| 610543 | 5 | 3 | 7 | 4 |
| 610543 | 4 | 3 | 8 | 1 |
| 610543 | 4 | 2 | 8 | 5 |
| 610543 | 4 | 3 | 8 | 4 |
| 610543 | 2 | 3 | 4 | 2 |
| 610543 | 3 | 3 | 8 | 3 |
| 610543 | 2 | 1 | 5 | 2 |
| 610543 | 4 | 3 | 7 | 3 |
| 610543 | 2.5 | 3 | 7 | 4.5 |
| 610543 | 2 | 2 | 7 | 3 |
| 610543 | 3 | 3 | 7 | 3.5 |
| 610543 | 4 | 2 | 7 | 3.5 |
| 610543 | 4 | 2 | 5 | 3 |
| 610543 | 3 | 3 | 7 | 4 |
| | 3.321428571 | 2.571428571 | 6.785714286 | 3.25 |