Meet the Maker: Marina Marchese of Red Bee Honey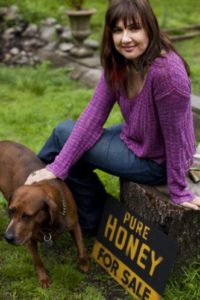 Marina Marchese is changing the way people taste and think about honey.
Inspired by a trip to Italy where she learned about single-origin honeys, Marina's Red Bee honey celebrates the philosophy of terroir and the diverse flavor profiles of honey determined by the types of nectar gathered by the honeybees.
Read on to find out how Marina got her start as a beekeeper, the benefits of single-source honey, and why she coined the term "honey sommelier."
Describe your evolution from a designer to a beekeeper.
After graduating from the School of Visual Arts I worked as a freelance illustrator in New York City, eventually traveling abroad to research and design for the giftware market. In 2000, I was unexpectedly introduced to beekeeping and became utterly hooked after tasting fresh honey still warm from the hive. The more that I learned about bees and honey the more I felt it should be regarded as a noble food and given the same respect as wine or olive oil. RED BEE HONEY was officially launched with my first harvest using my design sensibilities to give honey a sophisticated edge. Passions can take you on a life-long journey and I combined my creative spirit with bees to make my passion into a business.
What is "single-origin" honey?
Single-origin honey is produced from the nectar of a one type of flower, imparting a distinctive color, aroma and flavor profile. Honey, like wine, reflects its source and environment or terroir. There are thousands of types of honey plants and each one influences the sensory qualities of the honey in a unique and delicious way.